Common Good Matrix & CG Consultancy
The Common Good Matrix
We start from the position and belief that the economy has to serve the Common Good. Christian Felber describes in his book 'Change Everything' that this actually is the basis of a lot of constitutions of democratic nations.
The Common Good Matrix is a framework and tool to integrate ethical principles in the foundation of an organization.
The 4 pillars that represent universal values are: Human Dignity, Solidarity, Ecological Sustainability and Democratic Participation. The 5 stakeholders for which we then will explore to what degree these values are implemented are: the owners/funders of the organization, the employees, the suppliers, the clients and society & the planet as a whole.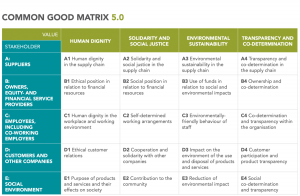 Read all about the Common Good Matrix here
---
Common Good Transition Coaching
How can you transform your organization into a CG organization?
Our approach is both holistic and modular. We adapt it to your needs, the size & culture of your organization. You can run it as part of a peer group or solo. The full process includes an:
introductory CG workshop
Why-How-What Canvas of your organization integrating the 4 CG principles
Analysis of the Matrix, how do we currently apply the 4 CG principles for the 5 stakeholders
Reporting & Review
Scoring of the CG Matrix
External audit
Formulating an action plan
Coaching on prioritized topics
---
---