Common Good Matrix & Consulting
The Common Good Matrix
Together with Christian Felber, we belief that the economy has to serve the Common Good. Felber describes this Economy for the Common Good in his book 'Change Everything'.
The Common Good Matrix is a framework and tool to help reach the Sustainable Development Goals and to integrate human values and ecological sustainability in the foundation of your organization.
The 4 pillars that represent universal values are: Human Dignity, Solidarity, Ecological Sustainability and Democratic Participation. The 5 stakeholders for which we explore these values are: the suppliers, the owners/funders of the organization, the employees, the clients and the social environment, and the planet as a whole.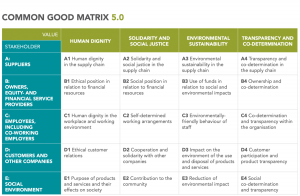 Read all about the Common Good Matrix or watch Felber's TEDX
---
Common Good Consulting & Coaching
EarthWays is a CG company working with certified CG consultants and experienced coaches and facilitators. We co-create an approach adapted to your needs and the culture of your organization. This can range from Common Good Inspiration workshops, an interactive Common Good Organization Scan with your team, to an in-depth Strategy Development project based on the Common Good Matrix, or the making of a Common Good Balance Sheet with report and audit.
mailto:chrishoeree@earthways.eu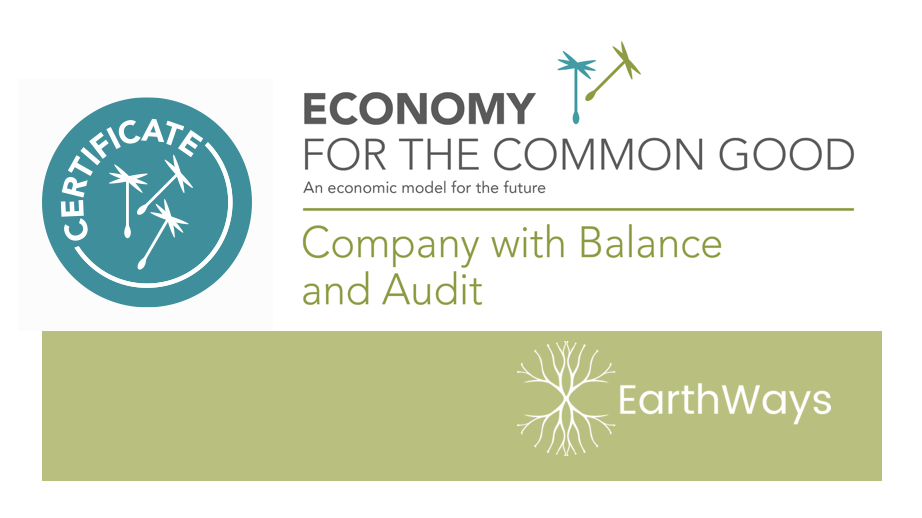 ---
De Vleugels: Strategy Development based on the Common Good Matrix
De Vleugels is a care facility and expertise centre for the disabled, located in West-Flanders, Belgium. Since human values and dialogue have been part of the culture of the organisation, General Director Bruno Vanbeselaere asked Earthways to facilitate a multi-stakeholder participation forum to make its strategic plan for the coming 5 years. EarthWays designed and facilitated this 3 day strategic exercise based on the Common Good Matrix.
Applying this model made it possible to anchor human values and ecological sustainability in the strategy for the future of the organization. During a World Café, 100 participants brainstormed about themes like well-being at work, community involvement, conscious use of energy and water, …
---